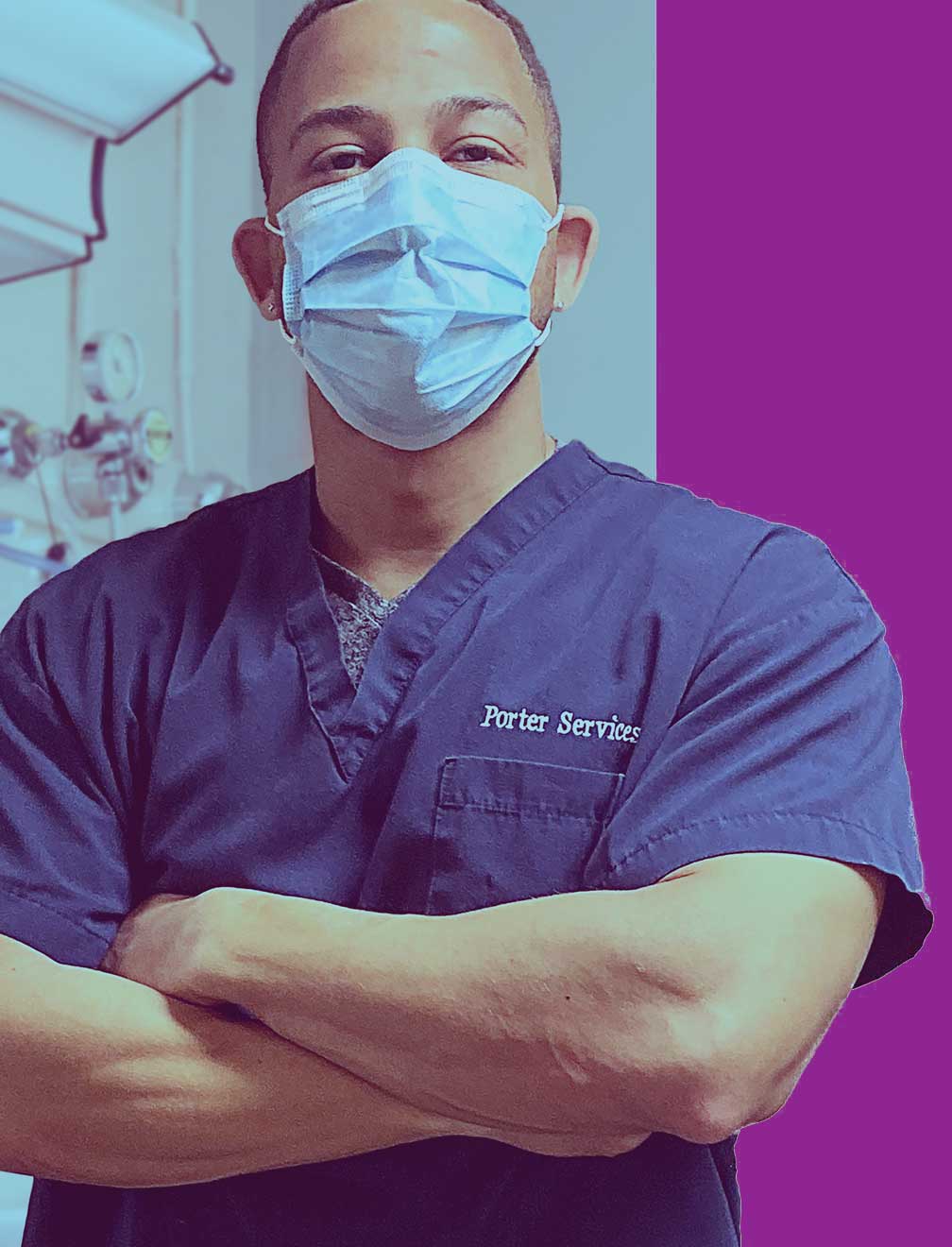 ANNUAL
REPORT
2019-2020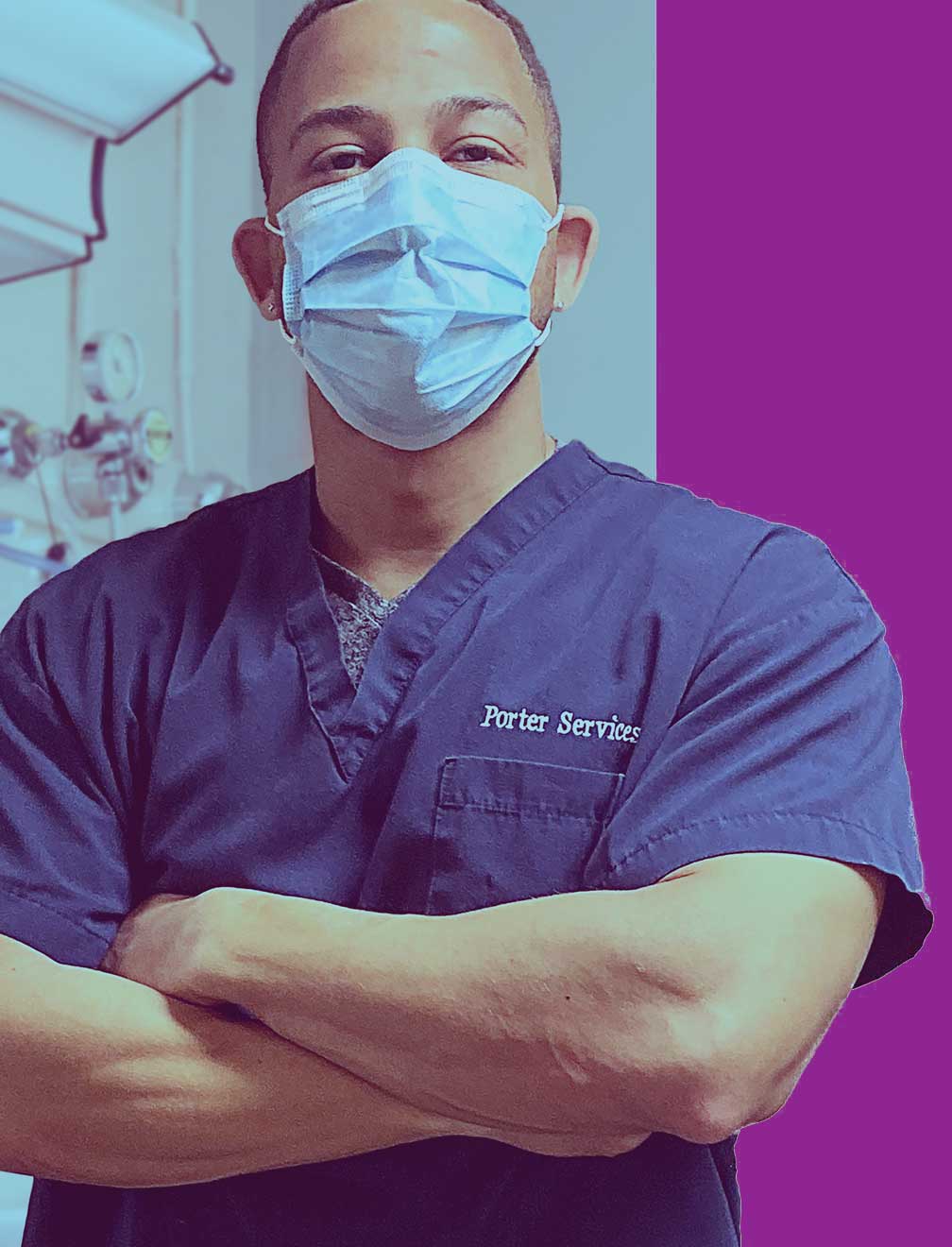 ANNUAL
REPORT
2019-2020
2
,
204
NEWFOUNDLAND AND LABRADOR
2
,
953
Outside of Atlantic Canada
QEII Health Sciences Centre – As the largest adult health sciences centre in Atlantic Canada, the QEII Health Sciences Centre is more than just 10 buildings on two sites. It's thousands of people delivering exceptional care, every day. From the operating room to the research lab, and everywhere in between, the most advanced care in our region is within the walls of the QEII. In addition to being the specialized care centre for heart health, cancer care, neurosurgery and organ transplantation, the QEII is the leading research centre and training facility for tomorrow's healthcare professionals.
QEII Health Sciences Centre Foundation – Transformed health. Transformed lives. This is our vision. For more than two decades, the QEII Foundation has been advancing health care at the QEII by funding new technologies, medical research, innovation and professional education that contribute to life-changing moments experienced every day by patients and their loved ones. With incredible support from the community, together we are transforming the QEII for Atlantic Canadians.
Dr. Ross Mason is part of the QEII team that performed the first-ever robotic surgery in Atlantic Canada in February 2019.
Human controlled. Robot assisted. Donor funded.
Project to be entirely funded by QEII Foundation donors.
In the QEII's robot-assisted operating room, the surgeon sits at the console a few feet away from the operating table and patient. From that distance, they control four robotic arms holding surgical instruments and a 3D camera.
Every movement made by the surgeon's hands is then translated into very fine movements inside the patient; movements so tiny and precise they would not be possible with the human hand.
This results in many benefits for patients, including shorter hospital stays and recovery times, less risk of
infection, less pain, and quicker return to work and normal activities. The increased precision also allows surgeons to ensure all of the cancer has been removed, which means it's less likely for cancer to return and less likely for patients to need further treatment after surgery.
Donors' support introduced this treatment option to local cancer patients and is also helping to attract world-class surgeons, like Dr. Ross Mason, to the QEII.
If you are interested in supporting the first surgical robotics technology in Atlantic Canada, visit QE2Robotics.ca.
Detecting smaller traces of cancer
Community rises to a challenge set by QEII radiologists, bringing the most sophisticated cancer imaging technology to Atlantic Canada.
Imaging technology is a guiding force, setting the stage for the decisions that impact a patient's care journey. PET-CT imaging results help medical teams guide patients through their next steps – whether that means additional testing, treatments or surgery. As the only centre in the province with PET-CT technology, the QEII scans approximately 2,500 patients every year. But, as equipment ages, it needs to be replaced.
Healthcare teams want the best for their patients. That's why a team of 36 radiologists stepped up to make personal donations to help fund a leading-edge PET-CT scanner. Together, they tripled donations, ensuring those living with cancer have access to the best imaging technology available today at the QEII.
The first patients were scanned on the new PET-CT in April 2020. In addition to a better patient experience, new technology brings opportunities for research, allowing our diagnostic imaging teams to explore new methods.
A team of QEII radiologists tripled community donations for a new PET-CT scanner at the QEII.
Heather Aikens, PeriAnesthesia Certified Registered Nurse, guides a patient through communication using the Interpreter on Wheels..
The world at your fingertips
Interpreter on Wheels makes 24-hour interpretation possible
Being in hospital can be a stressful time for many people but imagine not speaking the same language as your healthcare team.
For patients in the QEII's perioperative care unit, those days are over. In the fall of 2019, perioperative care teams at the QEII received an Interpreter on Wheels through a QEII Foundation Comfort & Care Grant. A secured iPad on a mobile stand, the Interpreter on Wheels has hundreds of languages available at the touch of a screen, with interpreters on call across the world, 24 hours a day.
In perioperative care, which includes the journey from pre-admission assessment to surgery to recovery and discharge, the interpreter is critical. For PeriAnesthesia Certified Registered Nurse, Heather Aikens, it's reassuring to know that with the interpreter, patients understand what's happening to them and can learn what they need to do for post-operative care when they go home.
"It's reassuring to know we can provide the safest, most holistic care for our patients. You can see their relief when they know they can communicate and get the help they need."
– Heather Aikens, QEII PeriAnesthesia Certified Registered Nurse
$1.5 million
raised through special events thanks to a community of supporters
Collectively, these special events have a big impact. Ride for Cancer powered by BMO Bank of Montreal is one example, along with the Jordan Boyd Celebrity Hockey Challenge. The annual hockey event took place in July 2019 and raised $161,783 net in support of the QEII's Inherited Heart Disease Clinic and to help prevent sudden death from cardiac arrest. This event is in honour of Jordan Boyd, who lost his life to an undiagnosed heart condition in 2013.
Riders and sisters, Erinn Smeltzer (left) and Megan Scanlan (right) gear up for the fifth annual Ride for Cancer powered by BMO Bank of Montreal on September 28, 2019.
Facing the fight against cancer
800 Riders raised over $842,656 net for cancer care at Ride for Cancer powered by BMO Bank of Montreal
A community of over 800 Riders, 210 volunteers, sponsors, and supporters came together on September 28, 2019 at Ride for Cancer powered by BMO Bank of Montreal and raised over $842,656 net to transform cancer care in Atlantic Canada.
Funds raised will help stop cancer in its tracks by purchasing critical, state-of-the-art cervical cancer diagnostic and treatment equipment, help bring Atlantic Canada's first surgical robotics technology to the QEII, fund groundbreaking research to discover new treatments and cures for blood cancer, as well as fund individualized support programs for cancer patients and their families through The Leukemia & Lymphoma Society of Canada.
Erinn Smeltzer and Megan Scanlan are sisters and best friends who participated in the 5th annual Ride for Cancer powered by BMO Bank of Montreal. Their Dad, Steve, was diagnosed with bladder cancer in September 2014 and passed away in July 2015. After their Dad's cancer diagnosis, the sisters started doing their own research to see how they could contribute in a positive way, here at home. Despite the emotions that came with Ride day, Megan and Erinn were proud to face the fight as part of the Ride community.
"My Dad lived life the way he wanted to live it. He enjoyed every minute of it and he loved to celebrate. He would want us to help other people living with cancer who came after him." 
– Erinn Smeltzer, 2019 Ride for Cancer powered by BMO Bank of Montreal participant
Treating short circuits in the heart QEII study aims to advance complex procedure
Dr. Amir AbdelWahab, QEII cardiac electrophysiologist, received $50,000 from the Maritime Heart Centre Innovation Fund for his study of an intricate procedure to treat dangerous heart rhythms, also known as arrhythmias, that lead to cardiac arrest – the leading cause of death in Canada.
The Real-time Automated Program for IDentification of Ventricular Tachycardia origin (RAPID-VT) study uses automated 3D software – developed by Dr.
AbdelWahab and his team – to find the area causing life-threatening arrhythmias. These short circuits are then cauterized through a standard, complex procedure called catheter ablation. Dr. AbdelWahab is looking for ways to make this procedure better by more accurately pinpointing the origin of these arrhythmias. After successfully completing his study on locating arrhythmia sources on the left side of the heart, Dr. AbdelWahab is working to determine if the same accuracy exists on the right side of the heart, which is generally more challenging because of its complex shape and thinner wall.
"We need to be really accurate about where the abnormal rhythm is coming from – it's not usually just one spot that causes the abnormality. By pinpointing these accuracies, we anticipate that this study will make the ablation procedure faster, safer and more successful in both sides of the heart."
– Dr. Amir AbdelWahab, QEII cardiac electrophysiologist
Supporting healthcare leaders QEII teams advancing care through education and training
The Chris Power Leadership Development Fund – named for the president and CEO of the former Capital District Health Authority
– supports emerging and established QEII leaders to learn, develop and advance health leadership practices. Chris is an inspiration to many with her strong leadership and communication skills, and has a passion for advancing healthcare leadership. In 2019, there were nine recipients, including Terra Thibault.
Terra is a health services manager with the QEII's outpatient cancer care clinics. Terra began her healthcare career as a registered nurse and is pursuing a Masters of Health Management through McMaster University.
Committed to lifelong learning and understanding her own assumptions, strengths and weaknesses as a leader, Terra is gaining an understanding of healthcare systems and policies across Canada and the world. Terra is grateful for donors who believe in the power of continued education for healthcare teams – all in the name of patient care.
Kevin Hurst – The Pink Patch Project
Nova Scotia's Deputy Sheriffs donned custom-designed pink badges throughout the month of October as part of The Pink Patch Project. The initiative was led by Kevin Hurst, who was inspired to find a way to honour colleagues who are affected by breast cancer. As part of the project, service agencies create and sell their own custom badges with proceeds supporting breast cancer causes in their communities. Established in 2013, the project now has over 390 agencies involved globally. Kevin's leadership helped raise over $1,760 for the QEII Foundation's Breast Cancer Research Fund and has paved the way for more agencies to get involved in the future.
Jane Chen – Chinatown Restaurant
Jane Chen, the owner of the new Chinatown Restaurant location on the Bedford Highway in Halifax, was moved to make an impact after attending the Blue Butterfly Evening, an annual community-led fundraiser in support of thyroid cancer research and patient care at the QEII. Upon opening her new restaurant in summer 2019, the new Chinatown served up generosity – one meal at a time. For every order placed, one dollar was donated to support patients facing thyroid cancer at the QEII. Through Jane's community leadership, Chinatown has raised over $2,050 for the cause.
Mary Nowee and Meg McCallum – Not Me Art
Meg McCallum's visit to Mary Nowee's gallery led to the discovery of their shared desire to help people. When Mary learned of Meg's fundraising efforts at the QEII, she knew she wanted to help. And when Meg asked if she'd donate an art piece for a silent auction, Mary offered her a gallery instead. Funds raised through the Not Me Art Gallery help alleviate financial burdens on patients and families receiving cancer care at the QEII and beyond, who are struggling with things such as accommodation costs, travel expenses, bills, patient care necessities and more. Together, they've raised over $16,235 this year.
For families whose loved ones received care at the QEII, donations made in their memory leave a lasting impact and help change lives for other patients. Memorial gifts can be directed to the care area that best reflects and honors a loved one. By remembering a life, you can change another.
While on her own healthcare journey, Sarah Mather helped raise $99,315 at the QEII Foundation's 2015 Night of Discovery gala for environmental control units and other technology to help QEII rehabilitation patients to regain some independence.
A passion for helping others. In memory of Sarah Mather.
In a dramatic entrance to the darkened stage, Sarah Mather called for "lights on." 
In 2015, Sarah shared her story at the QEII Foundation's Night of Discovery gala. Earlier that year, a neurological disorder paralyzed her from the nose down. That night, Sarah was excited to help raise $99,315 for Environmental Control Units (ECUs) and other technology for rehabilitation patients.
At the QEII's Rehabilitation and Arthritis Centre, Sarah was introduced to these ECUs, a technology that helped her regain some independence. With a voice command, Sarah was able to control the lights in her room and call loved ones – seemingly impossible tasks that previously required the help of a nurse.
A beautiful light with a big heart and an even bigger smile, Sarah passed away unexpectedly in August 2019 at the young age of 42. In her memory, Sarah's family and friends gave to the QEII Foundation to support other QEII patients.
"The last five years of Sarah's life were an enormous challenge but a testament to her strength and perseverance to overcome whatever was thrown her way. We are happy and touched that others gave in Sarah's memory to continue her passion for helping others."
-Tom Roach, Sarah's father
A long-time donor, Joan Kohler's inspiring generosity is felt far and wide at the QEII today – and will continue to impact care for future generations.
Creating an impact for those who follow
Continuing a lifelong commitment at the heart of it all
Her son's open-heart surgery more than twenty years ago is what initially sparked Joan's generous support of the QEII. Crediting the QEII's heart health team for saving her son's life, Joan says she felt a duty to give back to the care area that gave her family a new lease on life.
Joan has helped fund many projects over the years, including one very close to her heart: Atlantic Canada's first hybrid operating room, which will enable more minimally invasive procedures for heart health patients.
While making recent updates to her will, Joan decided to ensure that her long-standing commitment to the QEII continues. By including a charitable gift in her will, Joan's legacy will help ensure that future generations have access to world-leading cardiac and vascular care at the QEII.
"Over the years I've realized that if you don't have your health, you don't have anything. I'm still able to leave something meaningful behind for my loved ones, while also continuing my support for a cause that's very personal to me. It just feels right."
-Joan Kohler, QEII Foundation donor
Our fiscal year for this report was winding down just as the pandemic was ramping up. It has been awe-inspiring to see our community come together and face these unexpected times. This volunteer Board of Trustees believes in the power and profound importance of health care and give their time, talent, and expertise year round to help make health care better. I am grateful to lead a Board that is deeply committed to transforming care at the QEII, along with you, our steadfast donors. Thank you for your support.
As a Board we are honoured to support our #QE2HealthHeroes. They are the champions giving so much of themselves to keep us safe and healthy.
Lydia Bugden, QC
QEII Foundation Chair, CEO and Managing Partner, Stewart McKelvey
2019-2020 VOLUNTEER BOARD OF DIRECTORS
The QEII Foundation is proud to introduce our volunteer Board of Directors. With many areas of professional expertise, their leadership helps make the QEII Foundation a strong, successful organization.
Our Year. Your Impact.
The true measurement of the QEII Foundation is the impact, that together, we are having on lives.
THROUGH GENEROUS SUPPORT FROM OUR DONOR COMMUNITY, WE PROVIDED $10.3 MILLION TO THE QEII IN 2019-2020.
($9.9 MILLION (NET))
$6.1 MILLION ADVANCED PATIENT CARE THROUGH PROGRAMS, EQUIPMENT, TECHNOLOGY AND FACILITIES, SUCH AS:
BONE MARROW
CATH LAB (HEART)
CANCER CARE
COMFORT & CARE
DIALYSIS PROGRAM
EATING DISORDER PROGRAM
EYE CARE
MENTAL HEALTH
PALLIATIVE CARE
PERIOPERATIVE
REHABILITATION
SKILLS LAB
VETERANS
$4.2 MILLION SUPPORTED EDUCATIONS AND RESEARCH INITIATIVES, SUCH AS:
ARTHROPLASTY OUTCOMES
CARDIOVASCULAR OUTCOMES
CHRONIC DISEASE
COLORECTAL CANCER
CYSTIC FIBROSIS
ELECTROPHYSIOLOGY LAB
HEMATOLOGY
MULTI ORGAN TRANSPLANT
NEUROSURGERY
NURSES HELPING NURSES
PATHOLOGY
PANCREATIC CANCER RESEARCH
POPULATION CANCER RESEARCH
RHEUMATOLOGY
The QEII Health Sciences Centre
IS MADE UP OF 10 BUILDINGS LOCATED ON TWO SITES: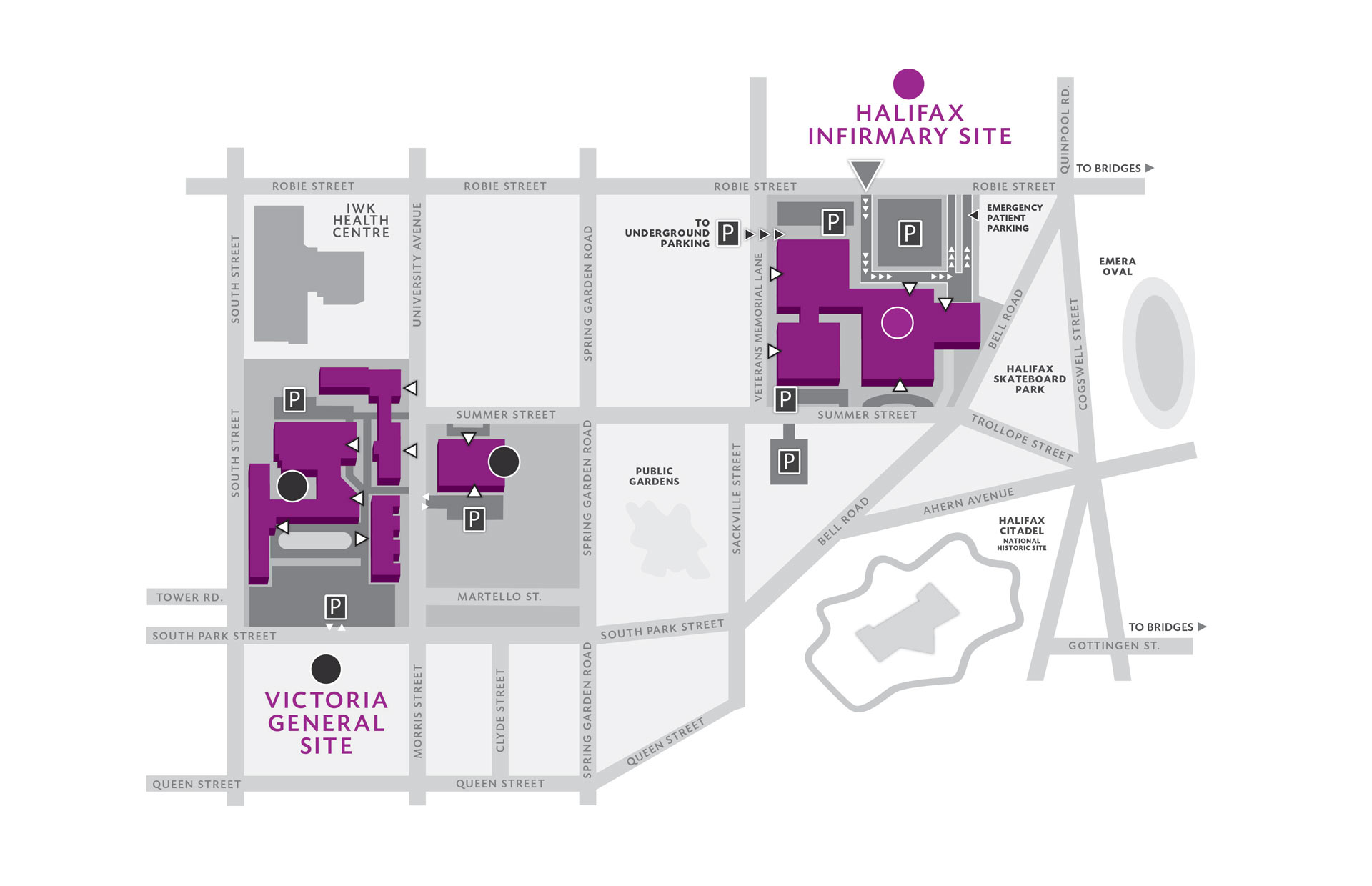 2
Charles V. Keating Emergency and Trauma Centre
4
Camp Hill Veterans Memorial
5
Nova Scotia Rehabilitation Centre
8
Centre for Clinical Research
Your compassion and generosity make a difference for the hundreds of patients, and their families, arriving at the QEII every day. By donating to the QEII Foundation, you are investing in the health of your community, helping to ensure the right care is available when our loved ones need it most.
Share the impact of your support